Product: VDRPro
Applies to: All managers and publishers

VDRPro allows content administrators (Managers and Publishers) to apply security configurations that can be as simple as applying watermarks to certain file types, to restricting users from sharing and even downloading information.
Available configurations:
Protect & No print (IRM encryption)
Watermark
Secure Viewer
Protect & No Print - IRM Encryption
IRM is the acronym for Information Rights Management, which is the nature of the encryption applied to files in VDRPro.
The terms Protected and Encrypted are used interchangeably, and can sometimes be preceded by the term IRM.
Protected - Encryption is applied to PDF, Excel, Word and PowerPoint files. Users who download an encrypted file will be prompted to authenticate with their Intralinks credentials every time they attempt to open the file. If their permission to view the file is revoked on the VDR, the downloaded copy will no longer open. Printed copies of the file will contain the watermark identifying the user and access timestamp.
Protected/No print - An additional security layer on the protected files that prevents users from printing them.
Users will see a locked icon next to the protected files in their view

. If Protect/No print was applied, the no-print icon

appears instead.
Note: If protection is applied to a PDF that requires a password to be viewed, users will not be able to open them. Remove any type of protection before uploading the document.
Watermark
Watermarks can be enabled for PDF, Word, Power Point, and Excel files. The following options can be configured:
Text position (diagonal, header & footer, 4 corners)
Text message ("Confidential," "Final," "Protected," and custom)
Color (5 options)
Opacity (5 options)
Content (User identity, Organization name, Timestamp, Document title, Index number)
Application (all files or protected only)
Disable watermark for Managers and Publishers
Users with the Manager Plus role can set these options by clicking Settings -> Document -> Security -> Watermark PDF and Office Files -> Configure.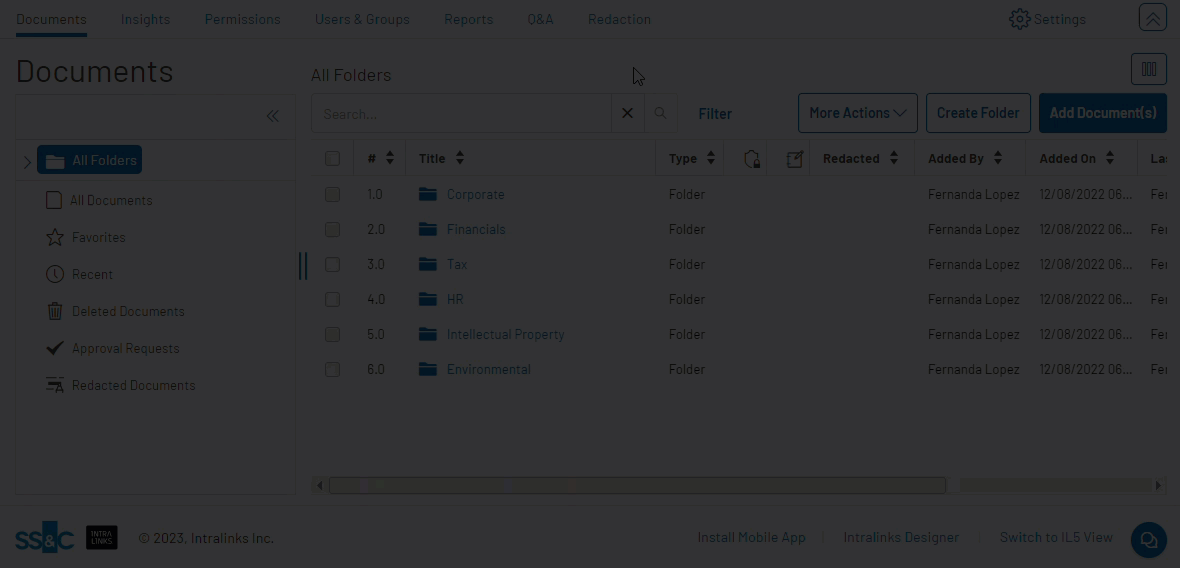 The watermark can also be applied only to specific groups. From the Users & Groups tab, right-click on a group and select Enable or Disable Watermark. Note that if a user is part of more than one group, and watermarking is enable for some groups and not others, the user will not see the watermark on documents. All groups that the user is part of must have watermarking enabled for the user to see watermarks.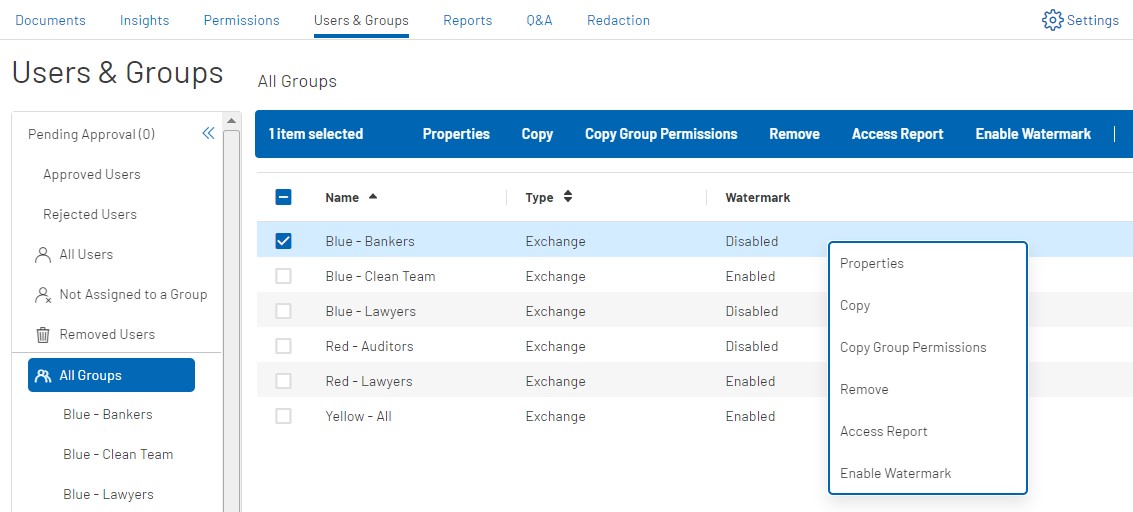 Secure Viewer
Secure Viewer is an alternative to IRM Encryption, intended for projects where downloading of files is not allowed. Secure Viewer prevents participants from downloading files. Instead, files can only be viewed in the browser. The Secure Viewer can be enabled individually for PDF, Microsoft Word, Excel, and PowerPoint files. It can be enabled for IRM protected files, files that are not IRM protected, or for both protected and unprotected files.
Secure Viewer blurs the screen when users move the mouse out of the document window. Protected documents can be printed from the Secure Viewer only if Protect/No Print was not selected when the documents were protected.
To enable and configure Secure Viewer in your VDR, use the Document Download & View exchange settings.
For more information, see Secure Viewer and Viewing PDF and Microsoft Office documents using the Secure Viewer.
Additional document protection capabilities
Prevent Print Screen
VDRPro is typically configured with an additional setting that prevents users from using the print screen command on protected files.
Caution: Preventing print screen works on Microsoft Office files, not on PDF files, only on Windows operating systems, not on macOS or Linux operating systems, and only when the document-/user-level permission is Control/See and Protected/No print, not for Control/See Protected.
Ad hoc analysis of protected documents
Permissioned users of Microsoft Excel documents can perform a limited number of actions that allow them to perform ad hoc analysis while maintaining document security. Supported actions include resizing cells, editing cell values, adding columns and rows, and sorting data. Users cannot save the changes they make. (For more information, see Performing ad hoc analysis using IRM-protected Excel documents.)
Viewing documents without entering credentials
If you are logged into Intralinks VDRPro or are connected to your organization's network via Single Sign-On (SSO), you can view downloaded copies of protected documents without entering credentials. SSO is supported for both Windows and Mac.
Revoking access to downloaded documents
Protected files that were downloaded by users will become permanently inaccessible once their permission to view them is revoked in the VDR.
System requirements
IRM supports access to protected documents on Windows and Mac system:
Microsoft Office 2010 and higher (Windows)
Microsoft Office 2016 and higher (macOS)
Adobe Acrobat or Reader:
Adobe Acrobat or Reader is required to view protected PDF files. Files cannot be viewed in a web browser or other PDF reader.
Single sign-on (SSO):
Supported for both Windows and Mac
Additional information